Silk - TV Series (2012)
Silk

is a British television drama series produced by the BBC which was broadcast over three series on BBC One between 22 February 2011 and 31 March 2014. Created by Peter Moffat, the series follows the dilemmas and problems that modern day barristers have to face, and what it means to become a silk.

Shaun played the role of new pupil Daniel Lomas in episodes 4,5 and 6 of the second series.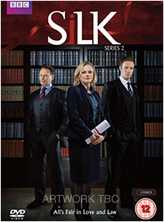 Plot Summary
#2.4: Martha defends Michael Ward,a security van driver accused of neglect and manslaughter when claustrophobic prisoner Richard Doyle has a panic attack and dies in transit. Shoe Lane chambers takes on a new pupil Daniel Lomas, who worked as a policeman for 5 years before taking up the law as a career. Daniel proves a great help to Martha in discrediting the prosecution's star witness and winning her case.
#2.5: Caroline Warwick invites Reader to assist her in prosecuting Jody Farr,accused of killing Martha's client Brendan Kay,in exchange for reducing the murder charge against Fatima to manslaughter. When he accepts George dumps him and hands Fatima's case to Martha,who,helped by Daniel,does Fatima proud,discrediting her angry,sexist brother. However it is Joy who provides the vital evidence that wins the case,the deal being that Martha defend Farr in return.
​#2.6: Martha reluctantly begins the defence of hectoring,arrogant Jody Farr as a favour to the reptilian Micky Joy. She plans to adopt the line that Farr was framed by the police but is enraged to learn that Joy is using Billy as Farr's alibi. Ultimately she gets Billy Lamb to admit that Joy is bribing him and he admits this in court,exposing Joy as a corrupt informant.