The Situation (2006)
The Situation is a 2006 film starring Connie Nielsen and directed by Philip Haas. It was written by Wendell Steavenson, a former journalist who was inspired to write the script by her own experiences covering the Iraq war.
Plot: Anna is an American journalist covering the fighting in Iraq in 2003. She has friends and allies on both sides of the conflict, and is romantically involved with two men -- Dan (Damien Lewis), a CIA operative who believes the future of Iraq depends on Americans working with moderate Iraqis and rebuilding the damage done in the war and Zaid (Mido Hamada), a photographer from Iraq who is eager to leave his battered country behind and start a new career in the West. As Anna's loyalties are torn between these two men and their differing perspectives on Iraq, a scandal polarizes the nation when two Iraqi children are found dead after having been thrown off a bridge by American soldiers.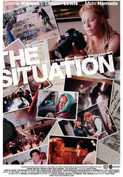 Pop Matters, 2 February 2007, Film Review: The Situation
​
Even as The Situation makes a mucky melodrama out of the war in Iraq, this effect does not seem entirely inappropriate, as it accommodates a U.S. perspective of its own actions.
RIATE, AS IT ACCOMMODATES A U.S. PERSPECTIVE OF ITS OWN ACTIONS.